I am an IT and New Media professional who graduated in Marketing Hons from DeMonfort University in 1997. I have Project Managed an online database from start to publication, and in graphic design to fullfill on and offline requirements of clients.
Further employment with VCatalysts.net (start up company) and as a consultant in the IT / Business Continuity field.
I have an extensive family including three sisters and a brother. My spare time is split between outdoor activities (must include danger) football (AFC) and role playing. For nightlife I enjoy theatre, gigs, opera - the more unusual the better!
As an amateur photographer I love to captuer moments. The Royal Tatoo picture above was taken with a Cannon EOS 210mm zoom lens & 800ASP. The picture bottom left was taken by myself!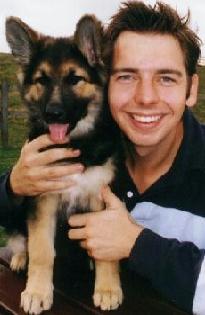 My Mum's German Sheperd puppy and I on the farm